Undergraduates: Enter Your Business Idea in e-Fest TODAY!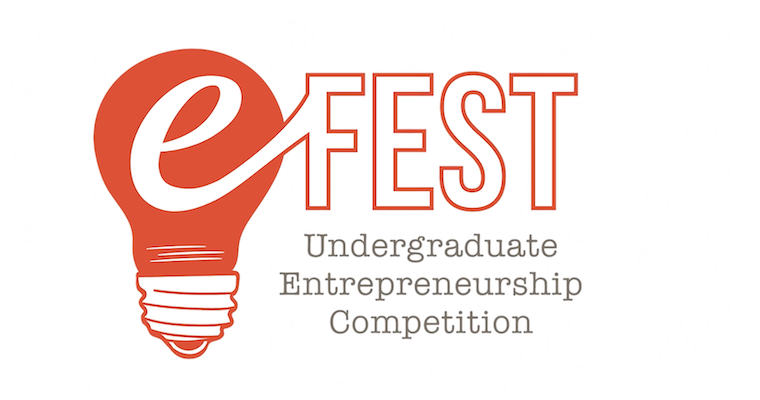 Since 2017 EIX and the Schulze School of Entrepreneurship at the University of St. Thomas have co-sponsored e-Fest®, a business idea competition for undergraduates only. Over the past six years e-Fest has awarded well over $1 million in cash prizes, giving many undergrads funding to take their ventures to the next level.
This year's competition is now accepting applications – so if you're an undergraduate working on a business idea (or a faculty member mentoring undergrads developing business ideas), consider applying now. You could win part of a $215,000 prize purse and a travel stipend for a trip to the three-day competition (for the top 25 finalists and their advisors) that runs from April 27-29 at the University of St. Thomas in Minneapolis.
Business competitions like e-Fest® are a powerful tool for both students and faculty. They provide an opportunity for students to apply their entrepreneurial training to launch new ventures. Entrepreneurship programs across the country often use co-curricular programs to bring opportunities to a wide variety of students interested in learning more about the entrepreneurial mindset. Beyond just business majors, co-curricular programs such as pitch competitions, innovation challenges, and incubators, can help students from all disciplines experience the power of entrepreneurship.
EIX believes that entrepreneurship is for everyone -- and with support from students, faculty, and colleges across the country, e-Fest has become the premier national business competition for any undergraduate student with an unrelenting entrepreneurial spirit and a great idea for creating positive change in the world. Our goal is to empower student entrepreneurs to develop skill sets in public speaking, problem solving, empathy, effective teamwork, and reasoning. e-Fest also helps students build the confidence needed to seek out opportunities and to be leaders in any professional setting. We encourage all students to apply to e-Fest for the chance to become a Top 25 Finalist team and hone their entrepreneurial skills to innovate, adapt, collaborate, and persevere at our 3-day competition from April 27-29.
With $215,000 awarded at e-Fest each year, you may already be convinced to submit. For those still on the fence, here are our top 10 reasons to apply to e-Fest 2023:
1. e-Fest is Open to ALL Undergraduate Students (and ONLY Undergrads)
e-Fest is specifically designed for undergraduate students, placing participants at a more level playing field in terms of knowledge and experience. We encourage all students with a great idea to submit their venture. To date, we have received winning submissions from more than 60 majors, ranging from business management and entrepreneurship to environmental sciences and psychology.
2. Judge Feedback
Our esteemed judges are industry leaders and seasoned professionals who provide valuable feedback that helps teams take their venture to the next level. All completed online submissions qualify for online review by our talented nationwide community of faculty, entrepreneurs, and business leaders. Because of our volume of judging, we don't give out subjective feedback. But we do normalize and analyze all the scores and provide a pitch analysis for all teams.
3. Travel Stipends
Don't let the costs of travel stop your team from submitting: e-Fest provides a generous travel stipend for all Top 25 Finalist teams of up to $3,750 to help cover the costs of attending the 3-day event in Minneapolis, MN. Teams travelling by air receive $3,750 and teams travelling by car receive $1,500.
4. Get Noticed
Gain national exposure for your business venture! The e-Fest Satellite Media Tour (SMT) provides an opportunity for teams to connect with multiple media outlets from across the country to conduct interviews for television, radio, online and print media. In addition, e-Fest, EIX and University of St. Thomas spotlight the Top 25 Finalist Teams in articles, event coverage, and social media.5.
5. Not 1. Not 2. Not 3. But a Total of 4 Competitions
Top 25 Finalist teams have the opportunity to vie for $215,000 in cash prizes in four e-Fest competitions – Pitch Slam!, Innovation Challenge, Schulze Entrepreneurship Challenge, and Social and Global Impact Awards – including up to $50,000 for the winning team and cash prizes for the runner-up teams. With such a range of competitions, students have many opportunities to shine (and win prizes) at e-Fest!
6. Connect with Student Entrepreneurs Across the Country
Build a peer-to-peer network with other young entrepreneurs across the country through hands-on experiences like the Innovation Challenge that teams up students from other schools to solve a real-life challenge. e-Fest teams connect at the event and support one another and their ventures long after the awards ceremony ends. Check out our e-Fest® LinkedIn page to see how e-Fest alumni continue to support and encourage one another.
7. Professional Development Workshops
Learn how to overcome common startup challenges through hands-on professional workshops led by seasoned subject matter experts from around the country. Our professional development workshop presenters are industry leaders and experienced entrepreneurs with real-world experience who share valuable information about the latest trends in entrepreneurship.
8. Faculty Enrichment Opportunities
Students aren't the only ones to benefit from the e-Fest experience. Faculty advisors can connect with our national network of entrepreneurship educators for both professional and social events. While at e-Fest, faculty advisors have opportunities for intentional collaboration, networking, and professional development as well as a Friday happy hour! Professional development workshops are focused on sharing best practices and innovation in entrepreneurship education. Topics may include; building an entrepreneurial ecosystem on your campus, new developments in venture capital, and the latest in SEO/SEM strategies.
9. Real World Training
Sharpen your public speaking skills and confidence by pitching your startup in front of a larger audience and judges, which will help you better engage with potential stakeholders like investors, early customers, and business partners down the road. e-Fest is real-world training for any high-stakes pitches you will be making in the future. It's a fast track to turning your ideas into impact and navigating new terrain as an entrepreneur.
10. Online Submission Guides
Excited to be a part of e-Fest, but not sure how to get your submission ready? Check out our e-Fest Online Submission Guide at www.efest.biz.
e-Fest is made possible by the generosity and support of Best Buy Founder Dick Schulze and The Schulze Family Foundation. Their dedication to entrepreneurship education allows us to provide such an incredible opportunity for students across the country.
In closing, if you need more convincing to submit to e-Fest 2023, take it from Mr. Schulze, "One way to make college more impactful for all students is to engage them in learning the entrepreneurial skillset. Whether as an entrepreneurship major or minor, or in liberal arts courses that explore the entrepreneurial mindset and process, or through venture competitions, startup incubators or design thinking workshops — teaching students to think and act as entrepreneurs does remarkable things. It motivates and energizes students, it builds their critical and creative thinking capabilities, it focuses them on the ways they can make an impact in the world, and it prepares them to enter the workforce with passion, purpose and confidence." (Schulze, 2022).
e-Fest 2023 Submissions Open until March 12th 11:59pm PST
---
Cite this Article
DOI: 10.32617/889-6400b15d3fd36
Gessner, J., & Frid, C. (2023, March 2). Undergraduates: enter your business idea in e-fest today!. Entrepreneur & Innovation Exchange. Retrieved March 31, 2023, from https://eiexchange.com/content/undergraduates-enter-your-business-idea-in-efest-today
Gessner, Jennifer, and Casey Frid. "Undergraduates: Enter Your Business Idea in e-Fest TODAY!" Entrepreneur & Innovation Exchange. 2 Mar. 2023. Web 31 Mar. 2023 <https://eiexchange.com/content/undergraduates-enter-your-business-idea-in-efest-today>.
---