A Life Linking Science and Practice: Remembering Andy Van de Ven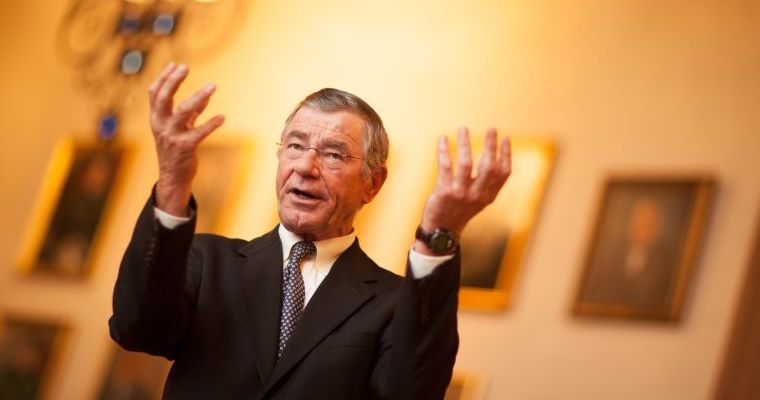 Photo taken by Kai Dragland at the Norwegian University of Science and Technology in 2012
Since our founding in 2014, a central part of our mission at EIX has been supporting knowledge-sharing between people who study entrepreneurship and those who put entrepreneurial ideas into practice. This mission has engaged people around the world for many decades. In this article, I'd like to pay tribute to someone who advanced that mission throughout his career: Professor Andrew (Andy) Van de Ven, who passed away on April 30, 2022.
Andy was born in the Netherlands in 1945, a time when his home country was reeling from the devastation of the Second World War. His family immigrated to Canada, and then to the United States. He earned a PhD at the University of Wisconsin in 1972 and went on to teach at the Wharton School at the University of Pennsylvania as well as at Kent State University in Ohio. In 1981 he joined the University of Minnesota, where he would spend the rest of his career, most recently as the Vernon Heath Professor of Organizational Innovation and Change.
Over the course of his career, Andy wrote or edited 14 books and hundreds of articles in which he developed and shared new knowledge about innovation and entrepreneurship as well as other topics such as organizational change, organization design, and inter-organizational trust. Andy was also an active member of many communities, spanning from his local community – where he helped repair and distribute bicycles to children in need – to worldwide communities of learning and practice, where he was beloved by many colleagues, partners, and students. Although Andy was not directly involved in EIX, he encouraged our efforts and had served as a mentor to a number of our editors and authors.
Here are a few of Andy's contributions that may be of most interest to readers of EIX:
Through these contributions and others, Andy gave a big push forward to a vision that is shared by editors, authors and readers of EIX: that of a worldwide "learning community" producing and sharing knowledge that advances both the science and practice of entrepreneurship.
A fuller profile of Andy's work is available in this article published in Strategic Entrepreneurship Journal, which includes selections from his conversation with Shaker Zahra, another distinguished innovation scholar. And more on Andy's life can be found in his obituary.
---
Cite this Article
DOI: 10.32617/783-6282932c31dfb
Forbes, D. (2022, May 16). A life linking science and practice: remembering andy van de ven. Entrepreneur & Innovation Exchange. Retrieved October 1, 2023, from https://eiexchange.com/content/a-life-linking-science-and-practice-remembering-andy-van-de-ven
Forbes, Daniel. "A Life Linking Science and Practice: Remembering Andy Van de Ven" Entrepreneur & Innovation Exchange. 16 May. 2022. Web 1 Oct. 2023 <https://eiexchange.com/content/a-life-linking-science-and-practice-remembering-andy-van-de-ven>.
---