e-Fest 2020 Highlights Elite Undergraduate Student Entrepreneurs Among Outstanding Field of Competitors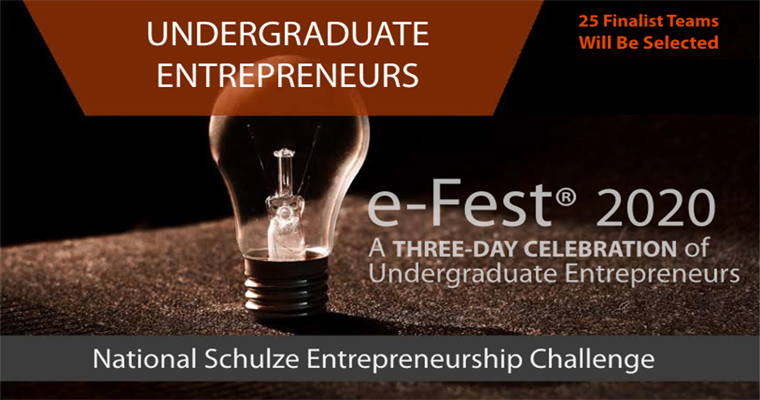 TOP 25 FINALISTS ANNOUNCEMENT
MINNEAPOLIS, March 27, 2020 -- It was another exciting year for e-Fest and the Schulze Entrepreneurship Challenge! Once again, our team of entrepreneurship judges pored over a crop of outstanding undergraduate student submissions from 65 colleges and universities across North America. Finalist teams received the top scores for their submitted videos as well as supporting slide "pitch" decks, with each team being reviewed by at least two independently assigned entrepreneurship judges. While this year's finals event and 3 day celebration will not be held in Minneapolis this April, we are very pleased to announce this year's Top 25 Finalist teams and recognize some brilliant ideas and the inspiring entrepreneurial efforts of this year's competitors.
One of the greatest features of our e-Fest entrepreneurship celebration is bringing the finalist teams to Minneapolis, both to compete and as well as to network together. This year's competitors featured inventors of medical devices, technologies, apps, retail services, social ventures, and more. So inspiring! Although we are disappointed not to host the amazing 3 day finals event in Minneapolis in April at the Schulze School of Entrepreneurship, thanks to the generous support of the Richard M Schulze Family Foundation each finalist team will be awarded a $3,000 prize and their college or university a $1,000 grant.
This article will be updated with additional team details.
2020 E-FEST FINALIST TEAMS
Media Contact & Inquiries: [email protected]
(Teams appear in alphabetical order.)
Azuza
California State Polytechnic University - Pomona
BeyondVR Elizabethtown College
Elizabethtown College
Blueprint Stats
Indiana University- Bloomington
CloudCare
University of Arkansas- Little Rock
Early Intervention Systems
George Washington University
Ethereal Motion LLC
Western Michigan University
Ethiopay
Georgia State University
For the Love of Hemp.
California State University - Channel Islands
Hoo
Indiana University
Maison
Northeastern University
Nutrivide
Rutgers University
ParkPoolr
University of Minnesota- Twin Cities
PastimeU
University of Northern Iowa
Patellofemoral Unloader Knee Brace
Worcester Polytechnic Institute
Phoenix
Purdue University
Puresipity: Jewelry With a Purpose
University of Tampa
Rendyr
Virginia Tech
SafeSnack
Grove City College
SEAAV Athletics
Quinnipiac University
SnapClips
University of Illinois - Chicago
TemPower
University of Pennsylvania
Transfoam
University of Virginia
Treecup
Grove City College
Whisk Dating
Oklahoma State University
youBelong Cash
Florida Gulf Coast University
---
Cite this Article
DOI: 10.32617/490-5e7e5c1eae296
Beal, J. (2020, March 27). E-fest 2020 highlights elite undergraduate student entrepreneurs among outstanding field of competitors. Entrepreneur & Innovation Exchange. Retrieved September 28, 2023, from https://eiexchange.com/content/e-fest-2020-results
Beal, James. "e-Fest 2020 Highlights Elite Undergraduate Student Entrepreneurs Among Outstanding Field of Competitors" Entrepreneur & Innovation Exchange. 27 Mar. 2020. Web 28 Sep. 2023 <https://eiexchange.com/content/e-fest-2020-results>.
---