e-Fest 2022 Top 25 Finalists Announced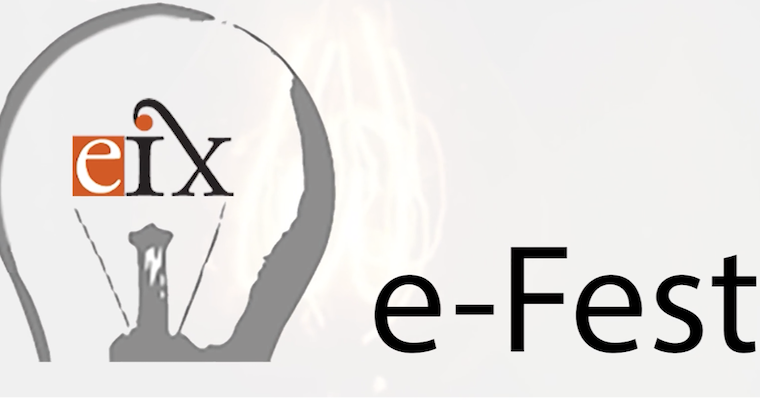 TOP 25 FINALISTS ANNOUNCEMENT
MINNEAPOLIS, April 1, 2022 -- Drumroll please...EIX proudly announces the Top 25 Finalists for e-Fest® 2022! We are so happy to be returning to Minneapolis and the University of St. Thomas, April 28-30 for e-Fest® 2022! e-Fest® celebrates 25 undergraduate student teams who submit the top business pitches in a preliminary online competition. Student entrepreneurs from around the country share their biggest and brightest business ideas for the chance to win over $215,000 in cash prizes!
After reviewing nearly 100 submissions from over 60 colleges and universities from across the United States, expert judges selected the top 25 undergraduate teams to travel to Minneapolis and showcase their business pitches to an esteemed panel of judges. These 25 teams will compete in 3-days of competitions: a Pitch Slam, an Innovation Challenge, and the featured event, the The Schulze Entrepreneurship Challenge! What business venture will be crowned as the Schulze Entrepreneurship Challenge Award winner this year? Stay tuned, or better yet, join us on Saturday, April 30th to meet the winner!
E-Fest is sponsored by the Richard M. Schulze Family Foundation, the Schulze School of Entrepreneurship at the University of St. Thomas, and EIX.org, a non-profit online platform for entrepreneurship education.
This article will be updated with additional team details.
2022 E-FEST FINALIST TEAMS
Media Contact & Inquiries: [email protected]
(Teams appear in alphabetical order.)
AI-Learners
Cornell University
AI-Learners makes learning math accessible and engaging for students with cognitive, physical, and behavioral disabilities through personalized computer games and analytics. We help students succeed academically and ensure their parents and educators can understand their abilities and progress.
Buzly
California State University of Sacramento
Buzly makes it easy for students to connect with their peers, build communities and get tailored updates directly from universities.
Casgains Terminal
University of Chicago
The Casgains Terminal will be the first online investment social network that emphasizes crowdsourced education and collaboration, where investors can compare and contrast their own investment research and opinions.
Chippit
Texas A&M University
Chippit is a scannable pet tag containing a pet's important info. A profile can have multiple phone numbers, a return address, vaccine records and much more!
Conserve
Georgia State University
Conserve is a mobile app that educates, tracks, and rewards users for recycling. Our goal is to change the recycling industry as we know it.
DryvnAI
University of St. Thomas
DryvnAI intelligently builds personalized strategies for rideshare and delivery drivers with the help of our intuitive and localized demand forecasts, helping them to increase their earnings and reduce downtime while staying a step ahead of ever-changing conditions.
Fib
Portland State University
Fib is a party card game that never gets old, is entirely unique, and is just as fun as the best games on the market.
Fit Oven
Florida Atlantic University
Fit Oven utilizes a state-of-the-art custom intelligent vending machine that refrigerates, heats up, and dispenses hot and healthy meals to the consumer in 90 seconds or less and at a price point 27% lower than fast-food and fast-casual alternatives.
Free. Project
Walsh University
Free. Project aims to provide free period products to all and create menstrual equity by positively connecting brands directly to consumers through a revolutionary marketing channel.
HydroPhos Solutions
University of New Hampshire
HydroPhos Solutions is a circular economy social venture that simultaneously addresses eutrophication and phosphorus depletion as a function of its core business model. HydroPhos utilizes phosphorus filtration technology to extract phosphorus from wastewater, subsequently reselling this phosphorus into the fertilizer industry.
Let's Tap In LLC
Towson University
Let's Tap In is a two-way communication channel between bar owners and their community. The app allows users to provide and receive real time data about their local bar scene and owners to upload unique drink specials/bar activities to the public all while collecting new data about their business.
Local4Local
University of St. Thomas
Local4Local is a youth-run food drive initiative that sustains jobs to cyclo drivers and provides key necessities to Cambodians in need.
Manser Edbrooke Technology
FAMU - FSU College of Engineering
We are building a machine to create high quality metal parts in any home or office.
Nutroo.AI
Worcester Polytechnic Institute
AI-powered meal generator app that develops a meal plan tailored to users' physique goals, dietary preferences, and time constraints.
Pallyt
Worcester Polytechnic Institute
Through emerging e-commerce technologies, the Pallyt app will give contractors instant access to all local hardware stores and specialty suppliers, making it effortless to search for the best nearby products and order them immediately for in-store pickup or rapid delivery.
Pet HealthCare Innovations
Florida Atlantic University
Pet HealthCare Innovations was founded to greatly improve the health and quality of life for pets and their owners, by providing the best products and services on the planet, that are the most effective, easy to use, and essential for the standard of care for pets.
Reboot Reforestation
University of Alabama
Reboot Reforestation develops, manufactures, and operates drone technology to plant trees and monitor ecosystems at scale, faster, more affordable, and with less labor than our competitors.
RedBrick Entertainment
Wake Forest University
We help Universities foster campus engagement through large scale scavenger hunts.
RENNDVOUS
Towson University
An innovative automotive buying and browsing experience utilizing NFC technology.
Resense
Grove City College
Resense's product Memory Box is a toolkit designed to increase brain health, exercise the senses and elicit long-lasting memories.
Safe Sips
State University of New York at New Paltz
Safe Sips is a biodegradable disposable cup manufacturer that produces a cup capable of letting consumers know when their hot beverage has reached a safe drinking temperature to protect consumers, businesses and the planet.
Sav's Syrups LLC
University of Northern Iowa
Sav's Syrups LLC is a sustainable, flavor-first coffee syrup company.
SmartSeat
Grand Valley State University
SmartSeat Media L.L.C. is an online event ticketing service that utilizes Algorand's blockchain technology. In doing so, we completely abolish sketchy ticket transactions, exuberant fees, and best of all artists, venues, and organizers make additional money on secondary ticket sales, which has never been heard of before.
Sportwatch LLC
Western Michigan University
Sportwatch LLC aims to bring powerful data-driven analytics to time-based sports via a mobile app. With practice-based data, coaches and athletes can view insights over the course of their season and customize their workouts.
Tandemly
Virginia Tech
Tandemly leverages advances in AI for personalized learning.
---
Cite this Article
DOI: 10.32617/763-62475d8595f0c
Beal, J. (2022, April 1). E-fest 2022 top 25 finalists announced. Entrepreneur & Innovation Exchange. Retrieved September 28, 2023, from https://eiexchange.com/content/e-fest-2022
Beal, James. "e-Fest 2022 Top 25 Finalists Announced" Entrepreneur & Innovation Exchange. 1 Apr. 2022. Web 28 Sep. 2023 <https://eiexchange.com/content/e-fest-2022>.
---